Igoza Car Rentals & Taxi Services in Mangalore takes you the most popular destinations or places in around Mangalore so that you can enjoy your tour as much as possible. Igoza Car Rentals or Taxi agents not only make your journey a good one but a memorable one. Igoza experienced and friendly drivers make your ride a memorable one. Igoza Travel agency makes daily Tour packages to the most exciting places – Beaches in Mangalore – Travel destination in Mangalore - Malpe Beach, Mangalore.
About 6Km to the west of udupi, a natural port Malpe is located. On the Karnataka coast Malpe is an fishing harbor and an important port. It is situated about 66kms from Mangalore and on the western side it is surrounded by 3 rocky islands. A 24x7 wifi facility is available in Malpe beach which is first indian to have so.
There are 4 rocky islands surrounding the beach side:
Daria-Bahadurgad island
Kari-Illada-Kallu island
Daria-Gadara-Kalluthe Island
St. Mary's Island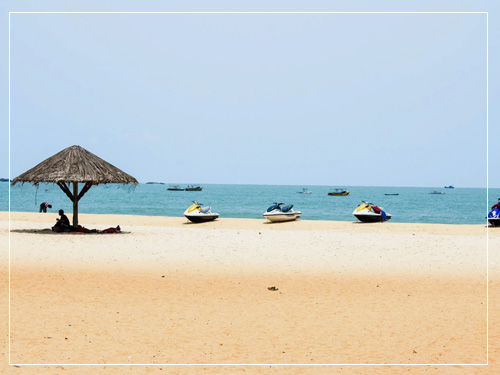 Malpe is regarded as one of the largest port in Karnataka. A wide variety of beach activities can be engaged in the beach because of the favouable climate and clean white sand. The different types of activities that can one indulge in Malpe beach are Jet ski, Parasailing, Bannana rides, speed boat rides, Bumpi rides, Surfing & Speed boat cruise to St Mary's Island. The amazing sunset view just take your breath away in this beach or there are lot of resorts & restaurants where you can have beautiful experience once in a lifetime.
October to January is the best time to visit this beach because of the favorable climate.