Igoza Car Rentals & Taxi Services in Mangalore take you the most popular destinations or places in around Gokarna so that you can enjoy your tour as much as possible. Igoza Car Rentals or Taxi agents not only make your journey a good one but a memorable one. Igoza experienced and friendly drivers make your ride a memorable one. Igoza Travel agency makes daily Tour packages to the most exciting places – Beaches in Gokarna – Travel destination inGokarna- Om Beach, Gokarna.
Om Beach is about 8 Km distance from the town of Gokarna. The name 'OM' symbolizes a Hindu religious symbol(Two semi- crescent shapes joined together) where the shoreline resembles like the symbol.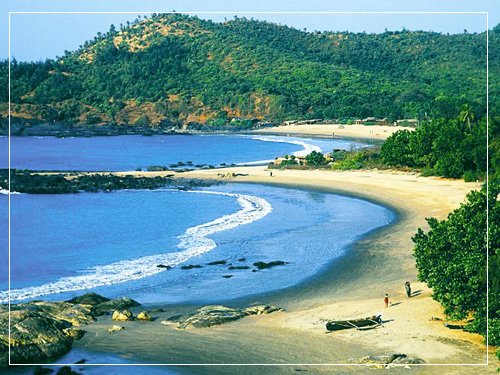 One of the popular beaches in Gokarna is the Om beach where the shacks are lined on the side providing a cheap accommodation andexotic food and drinks in the restaurants. Several adventurous water sport activities can be enjoyed in the Om beach such as Surfing, water-skiing, parasailing & Banana Boat rides. You can explore nearby beaches like Kudle beach having an amazing scenic view and lifestyle. In that area there are many hidden beaches where visited by less people like the Half Moon Beach & the Paradise Beach, these beaches have to be reached by boat.
Om Beach, Gokarna – How to reach?
By Road: It can be reached from Mangalore, Bangalore & Karwar. Igoza- Car rentals taxi service takes you to one of the popular tourist spot – Om Beach, Gokarna.