Pajaka, which is located South-East of Udupi Kunjaru Hill at a distance of 7 miles. Actually it is the birth place of Sri Madwacharya and also this hill is also known to be called as "Durga Betta". Lord Parashurama created the 4 holy teerthas which are on the four sides. Parasu Teertha is on the eastern side, Dhanus Teertha is on the southern side, Gada Teertha is on the west and finally on the north side is Bana Teertha. It is considered that if you take bath on these teerthas all your sins will be washed out.
There are two temples in the premises, one is the Sri Anantha Padmanabha Temple also known to be called as `Moodu Matha'. The ancestors of Madhwacharya worship the main diety here. Proximity of this temple a pond named Vasudeva theertha is present. On the eastern side of the vasudeva theertha ,Nagabana can been seen.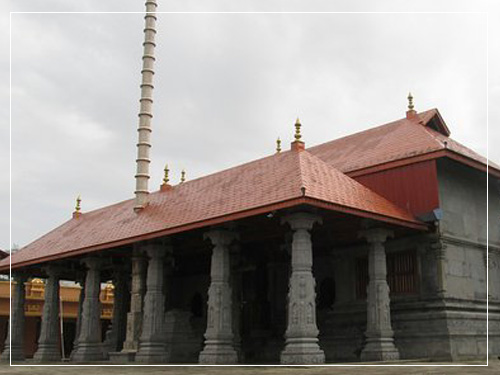 In Pajaka, there is another temple present of Madhwacharya itself. Here we can see impressions of Vasudeva on the stones. There is a story behind these impressions which is cited in "Sumadhwa Vijaya" Composed by Sri Narayana Pandithaacharyaru.
In the birth place of Sri Madhwacharya maintenance and management is been done by Udupi Kaniyooru Matt. On Vijayadashmi , the birth day of Madwacharya a grand celebration is been held in Pajaka every year under the guidance of HH Vidyavallabha theertha Swamiji of Kaniyooru Matt.