Igoza Car Rentals & Taxi Services in Mangalore takes you the most popular destinations or places in around Ullal so that you can enjoy your tour as much as possible. Igoza Car Rentals or Taxi agents not only make your journey a good one but a memorable one. Igoza experienced and friendly drivers make your ride a memorable one. Igoza Travel agency makes daily Tour packages to the most exciting places – Beaches in Ullal – Travel destination in Ullal - Someshwar Beach, Mangalore.
At a distant of 9 Km from Mangalore city Karnataka's one of the beautiful beach Someshwar Beach is located in Ullal.The amazing view of the sunset seen in this beach is just breathtaking. November to February is the best time to visit this beach because of the favorable climate.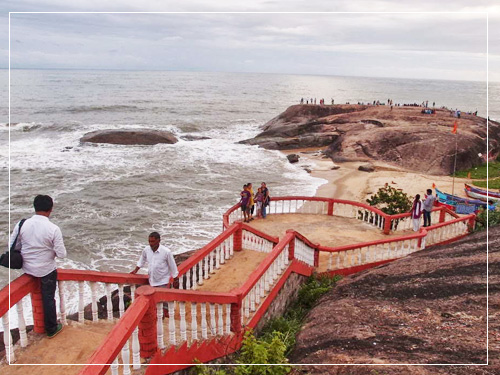 A Large rocks called RudraShile is present on this famous beach.To have anamazing view of the river Netravati one can climb a hillock named Ottinene which is present. Lush green vegetation & a lot of medicinal plants grow in this hillock.
Someshwar beach is unsuitable for swimming because of the high current and hidden rocks present along the coast. Due to high current, a number of lives have been taken by the sea every year because of the careless swimmers.
The ancient temple Someshwara Temple is present in north end of the someshwar beach. It is believed that the temple is been constructed by Queen Abakka Devi of Ullal. A pond beside the beach temple a natural wonder NagaTeertha is presentwith an everlasting sweet freshwater.
Travellers who visit this beach can travel a minimum distance to catch the best beaches in Kundapur. Ullal Beach, Surathkal Beach, Tannirbhavi Beach and Uchiloffers the best sea viewand sand as a rival of Someshwara Beach.